Are you one of those people who readily admit to watching Big Brother each summer or are you too embarrassed to admit it? I'm the former and have been watching Big Brother since the first season. Yea, I know….I'm hanging my head a bit sheepishly…but hey, it makes for great mindless entertainment! (insert irritating Rachel laugh here!)
So besides irritating houseguests and good strategic game, I do look forward to seeing how the producers change up the house decor each year.
This year the theme of the house is Venice Beach complete with fortune tellers, skateboards, graffiti and lots of bright bold colours. If you didn't watch the first episode last night, here's a peek into the house.
The kitchen: I love the butcher block countertop mixed in with a stainless steel countertop in the breakfast bar area. You can see surfboards sticking out of the walls high above the sliding door. And of course the large round dining table where many meals and nominations will take place. Note the bikes…very Venice beach….now we just need a board walk!
And of course, the BB13 living room where 2 guests to be nominated for eviction each week will sit. They definitely brought the outside into the inside this season – note the outdoor furniture!
I'm loving the colours of the lounge or parlour room (as CBS calls it). A bold colour combination of purple and black and the checkerboard floors. The large daybed will be perfect for strategizing against other players. Oh, and the fortune teller is in the bottom left corner – very spooky!
Co-ed bathroom have never been my thing. Just thinking of all those prying eyes on you makes me want to gag. But I love the colour scheme and the flooring.
The HOH bedroom has a circular bed this year…very glam!!! And I continue to adore the pairing of turquoise blue and orange in anything!! I see a lot of West Elm and Crate And Barrel with smidges of Jonathan Adler's ceramic animals in here.
Love the trellis-style wallpaper in the HOH bathroom – it's much more striking in blue then it is in the brown in the photo above. And I want that elephant!!
Wow…every time I look at this bedroom on the main floor I begin craving ice cream and dancing to Katy Perry's hit song 'California Girls' — not surprising that it has been nicknamed the Katy Perry bedroom!
This other bedroom featuring 3 twin beds with stunning bent brushed steel was inspired by architect Frank Gehry. Amazing…I love it!
The outside lounge area has gorgeous pops of colour – so vibrant and full of energy – perfect for dissing another housemate! And it looks like they brought the inside furniture outside in this case.
The Venice Beach inspired graffiti wall.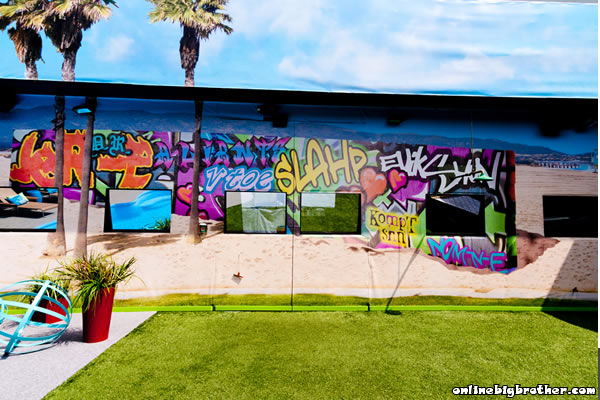 All pictures courtesy of CBS/Sonja Flemming
So what do you think of the BB13's House decor this year? Will you be watching?
If your home is craving some glamour, then contact me online or in person! I'd love to help!
Glamorously yours,
Christine xo
Please follow and like us: