On July 1st, Canada, the wonderful country I live in will turn 144 years old!!
My good friends over at Indigo Books emailed me this great video…it's less than 1 minute so you really should press play and watch it. It gives you a great snapshot as to what makes this nation so great!!
Another great Canadian magazine Style at Home has some great Entertaining tips on hosting the ultimate Canadian celebration.
Need party tips? Then click right here
Looking for something to wear this Canadian long weekend, then sign up with eLuxe, an online Canadian shopping destination! And you will receive extra saving this weekend!! Bonus!!!
Hope you all have a happy, safe long weekend enjoying time with family and friends. I'm heading up to the lake and will be celebrating with my Mommy Club for our 10 year anniversary!! Time flies when you are having fun — our first born are all turning 10 in July!
Cheers to celebrating!!
Glamorously yours,
Christine xoxo
Tomorrow I leave for NYC to attend BlogFest 2012, the second annual New York City design event hosted by Kravet Inc. that brings together editors from top design and lifestyle magazines, great brands and A-list industry designers and celebrities.
Below are just some of the celebrity designers and influencers I will hopefully meet and get a picture with!!
Thom Filicia, Designer
Margaret Russell, EIC of Architectural Digest
And I will be checking out the ICFF Show and the Kips Bay Show House — two key design events that happen in May each year in NYC that I have never attended!
It's going to be a jam packed 4 days of networking, social events and meeting a ton of design bloggers I admire but haven't met in real life. So it should be lots of fun.
I promise to blog all about it upon my return next week!!
Ciao for now!!
Glamorously yours,
Christine xoxo
Yesterday I got to spend the entire day with both my girls at their respective schools which was a perfect lead-in to this Mother's Day weekend!
First I headed over to my youngest daughter's Montessori school for their Mother's Day Tea…with lots of singing and baked goodies.
Look at the pretty tissue-paper flowers that greeted the moms when we arrived!
Then this fabulous group of children sang beautiful songs for their mommies. Here is a snippet of one of the mother's day themed songs:
We then enjoyed iced tea and baked treats that the kids had baked earlier in the week! That mini carrot cupcake was so delish!!
Mya then presented a drawing she made of the 2 of us. And you'll notice that the both of us are wearing crowns on our heads! She is definitely my little princess!
And here is present #2: a stunning DIY art project! I am absolutely floored by how fabulous this keepsake piece of artwork is. And it is so easy to do. Just glue the crayons to the top of a canvas, turn on the blow-dryer at high heat and watch the melted wax drip down the canvas board!! And voila, you have a piece of original artwork!!
Oh and look how amazing her printing is getting!!
Here we are enjoying some tea and baked goodies together. Look how proud she looks after giving me her precious mother's day gifts!!
After tea, I rushed down to the Medieval Times Castle in Toronto to volunteer at my oldest daughter's Grade 4 class field trip! Mackenzie and I had a great time watching all the cute Knights joust and sword-fight, while wearing our crowns and eating with our fingers!
I am incredibly lucky to be the mom of these 2 precious little girls who I know love their mommy very much! I'm looking forward to spending this weekend with my family – and getting a ton of kisses and hugs!

My wish is that you too have a wonderful Mother's day weekend filled with lots of love. And if you are not a mom, then I hope you get to spend some valuable time with your own mom!!
Happy Mother's Day!!!
Glamorously yours,
Christine xoxo
Well, its that time of year again when utter craziness begins with fabulous social events! Starting tomorrow, the Interior Design Show opens in Toronto at the Metro Toronto Convention Centre. And I can't wait!! It's always a great par-tay!!
When I attended the media preview and the gala last year I posted about them here and here! Although I can't make it to the media preview this year due to time constraints I will be attending the gala with all my interior design friends and attending Trade Day on Friday.
But first, Kimberley Seldon is having a pre-gala launch party & tweet-up for her new Business of Design website. Business of Design is a network community of industry peers; an innovative professional development website specifically created for interior design professionals.
Once Kimberley's party is finished at Modern Weave, then it is off to the Gala for the IDS opening night!! Remember this pic of the gang from last year! Same faces – new outfits!!
Haven't figured out what I am going to wear yet but I am wearing these fabulous 'shooties" by LAMB I bought last week! Are they not to die for!! And yes, my feet will be dying by the end of the evening!!
Then Friday morning we are off to Trade Day at the IDS Show. I'm attending Blog Podium right at 9 am to hear a series of great speakers speak to a huge group of design bloggers.
Should be a very insightful morning!! After that the gang will wander all the fabulous design booths and I promise to take lots of pictures.
Ok….I need my beauty sleep so see you back here with tons of fun from the IDS!!
Glamorously yours,
Christine xoxo
Here's hoping each one of you have One Epic New Years Eve!!!
(image via Pinterest)
I'm thinking of wearing something silvery with lots of sequins…..like this……
Or this
Or this
Whatever you decide to wear just make it a glamorous night!! Happy New Year!!!! See you next year……
And here's hoping for more GLAMOUR in 2012!!
Christine xoxo
I love the month of September..not only because fall is coming and its always a time of rejuvenation but because of the great Interior Design Social Events that start happening. And you know me……gotta always be in the middle of all the action!
Tonight I attended AYA Kitchen Design Party and was surrounded by utter kitchen lust. If you are considering a kitchen renovation than call me so we can head on over to AYA Kitchens together.
Tomorrow I am attending a breakfast at Holt Renfrew given by KORHANI Home to hear about their upcoming collaborations, upcoming holiday collection and a sneak peak into spring 2012 trends. Korhani makes chic but affordable rugs for your home – inside & out!
I absolutely adore this rug from their Limited Edition Korhani Runway collection—how GLAM is that!!! It's called Burlesque No. 4 – Blue – Cream.
Then I'm off to the Toronto Fall Home Show for a fun Tweet-up mingling and tweeting with Toronto's top home, interior design, renovation and decor friends and bloggers. Can't wait!

But right now I'm feeling a bit nostalgic for this time last year. On September 21, 2011 I went down to NYC with approx. 100 ++ Design Bloggers from all over North America to be in the audience of the Nate Berkus Show. And it was a jam-packed 24 hours. Click HERE to read all about my adventure this day last year!!
Can't wait to keep you caught up on more exciting social events for the rest of the season!! Have a great day!!
Glamorously yours,
Christine xo
.
By the time most of you read this, the cutest royal couple EVER will be officially prince & princess…or maybe they will become Duke and Duchess. Whatever titles will be bestowed upon them on their wedding day, most of us will be yawning and clamouring for another cup of coffee…..so while we are awake, let's pay homage to the Brits!!
Mario Testino/Art Partner
This is what I will be wearing at 5am alongside my PJs to honour the spirit of Princess Diana and the newest princess, Kate!!
Doesn't every girl dream of finding her prince charming? Well, this plate says it all!!
$32 at kkoutlet.com.
The Union Jack is hotter than ever!! Love these pics I saw in an email to me from High Gloss Magazine. Who wouldn't want one of these pieces for their home decor !!
And for every Glamour Girl in this universe, there should be at least one tiara that fits!! If not, than you can at least surround yourself with this delightful wallpaper, Crowns & Coronets created for the royal nuptials by Graham & Brown
You can even get creative and Jazz it up with their 'Royal' Jewels – glittering self adhesive jewels that allow you to create your very own tribute to the happy couple. How fun is that!!
So if you didn't receive one of these invites,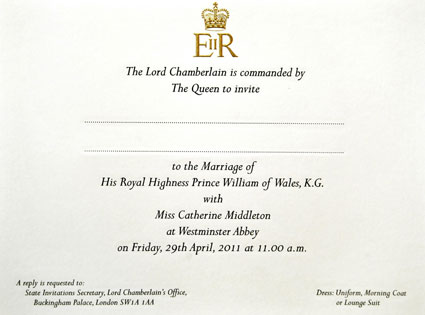 than join me on your sofa at 5am and let's toast to the cutest royal couple EVER and their big day!!! Cheers to William & Kate!!
Christine xoxo