Tomorrow I leave for NYC to attend BlogFest 2012, the second annual New York City design event hosted by Kravet Inc. that brings together editors from top design and lifestyle magazines, great brands and A-list industry designers and celebrities.
Below are just some of the celebrity designers and influencers I will hopefully meet and get a picture with!!
Thom Filicia, Designer
Margaret Russell, EIC of Architectural Digest
And I will be checking out the ICFF Show and the Kips Bay Show House — two key design events that happen in May each year in NYC that I have never attended!
It's going to be a jam packed 4 days of networking, social events and meeting a ton of design bloggers I admire but haven't met in real life. So it should be lots of fun.
I promise to blog all about it upon my return next week!!
Ciao for now!!
Glamorously yours,
Christine xoxo
I readily admit that I do NOT watch "Keeping up with the Kardashians" (or whatever the show is called?) but I will admit that the sisters are pretty glamorous looking. So I thought we should take a peek into their closets for today's Glamour Friday post!!!
Kim's Closet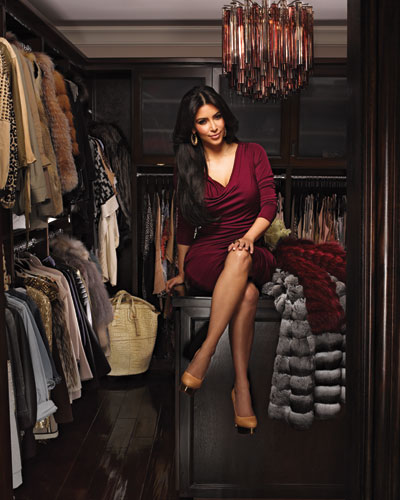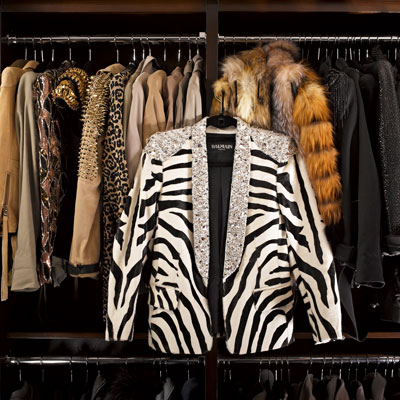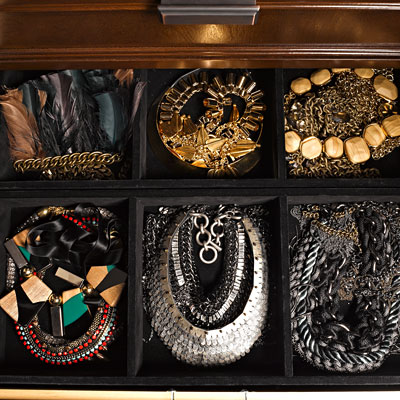 Here are some of Kim's tips on organizing a glamorous closet: "Always use the same style of hangers throughout," she says. Dresses are arranged long to short, and jackets are sorted by texture. And to create a boutique-like vibe, she likes to "showcase the most beautiful" pieces. She also says to "hide T-shirts in a cupboard or drawer. It's so hard to keep them nicely folded." Finally, toss anything that doesn't fit. "I sell those pieces on eBay and donate the proceeds," she says.
Khloe's Closet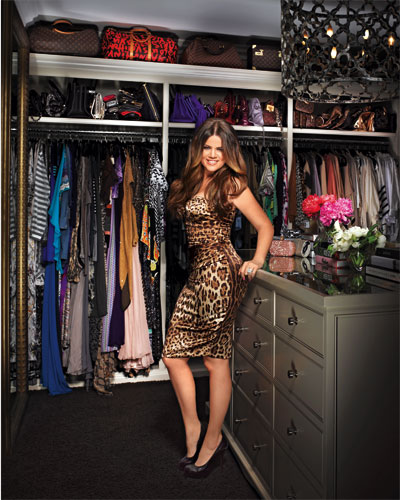 I do love that stunning chandelier hanging in her closet

Now this is heaven!!!! Shoe Heaven!!!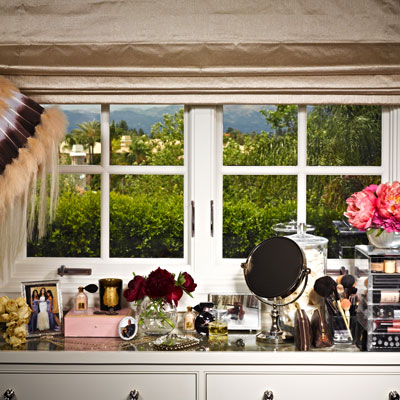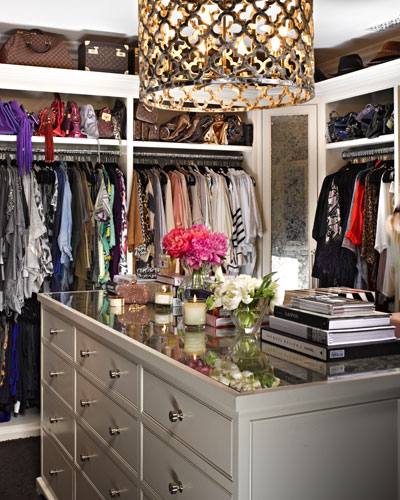 Kourtney's Closet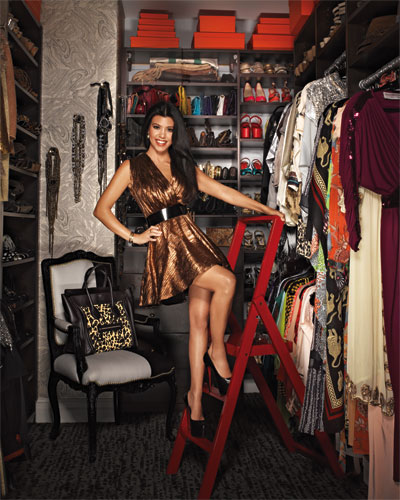 What's a closet without a few orange Hermes boxes!!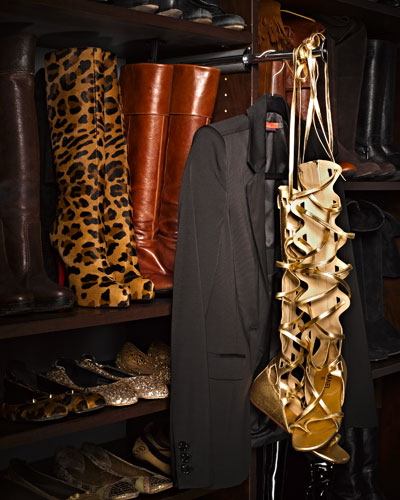 I want those leopard print boots!!!
Apparently there are more than 100 pairs of Louboutins between the 3 sister closets – crazy!!
Which closet is your favourite? Think I'm lusting after Khloe's closet!! It's a Glam Slam for me!!
Have a wonderful weekend!!
Glamorously yours,
Christine xoxo
All Photos from www.Instyle.com
I love the month of September..not only because fall is coming and its always a time of rejuvenation but because of the great Interior Design Social Events that start happening. And you know me……gotta always be in the middle of all the action!
Tonight I attended AYA Kitchen Design Party and was surrounded by utter kitchen lust. If you are considering a kitchen renovation than call me so we can head on over to AYA Kitchens together.
Tomorrow I am attending a breakfast at Holt Renfrew given by KORHANI Home to hear about their upcoming collaborations, upcoming holiday collection and a sneak peak into spring 2012 trends. Korhani makes chic but affordable rugs for your home – inside & out!
I absolutely adore this rug from their Limited Edition Korhani Runway collection—how GLAM is that!!! It's called Burlesque No. 4 – Blue – Cream.
Then I'm off to the Toronto Fall Home Show for a fun Tweet-up mingling and tweeting with Toronto's top home, interior design, renovation and decor friends and bloggers. Can't wait!

But right now I'm feeling a bit nostalgic for this time last year. On September 21, 2011 I went down to NYC with approx. 100 ++ Design Bloggers from all over North America to be in the audience of the Nate Berkus Show. And it was a jam-packed 24 hours. Click HERE to read all about my adventure this day last year!!
Can't wait to keep you caught up on more exciting social events for the rest of the season!! Have a great day!!
Glamorously yours,
Christine xo
.
Three new decorating shows are launching in Canada on Sunday, June 5th, and with all the reruns out there, I can't wait to start watching these summer shows!!
On the W Network, Million Dollar Decorators premieres at 9pm.  It features celebrity interior designers decorating for their very exclusive clientele.  You will meet L.A.'s most exclusive and sought-after interior designers –Martyn Lawrence-Bullard, Kathryn Ireland, Jeffrey Alan Marks, Mary McDonald and Nathan Turner.
Looks like a cat fight ready to happen!!  You can read all their bios here
On HGTV Canada, two new summer decorating shows starring some familiar faces also premiere on Sunday night!
With his team of experts in tow, Peter Fallico takes on a new challenge every week, working through different space challenges and giving each lucky family a space that will truly make it a Home to Keep.
Designer Karen Sealy packs up her samples and design pad and heads up to cottage country to makeover summer homes. Using functional and practical designs, Karen creates dreamy retreats that celebrate summer living. From a derelict waterside bunkie to a multi-family country lodge, Summer Home captures the fun, humour and emotion of a summer at the family cottage.
Will you be tuning in??
If your home is craving some glamour, then contact me online or in person! I'd love to help!
Glamorously yours,
Christine xo
Are you a Diva or a wanna-be diva? Yes….well then this bedroom is absolutely perfect!! Pure luxury at its finest…..to me it's actually dripping of diamonds and furs. When I saw this bedroom on the website of Style Factory International I thought I had died and gone to Glamour heaven.
Oh yes, I could totally imagine J.Lo, Beyoncé, and Mariah having this bedroom in one of their many homes.
A monochromatic colour scheme always screams glamour and luxury. Although I definitely would have added some aubergine cushions on the bed. And I totally adore the wing-back style headboard – perfect for any diva to lounge on.
Hello gorgeous, where have you been all my life!! Have you ever seen a chandelier trimmed in feathers. Utterly Glam-tastic!! And look, the long rectangular wall mirror is also trimmed in feather. OMG….I'm feeling faint as I write this.
What a stunning make-up desk. If you ever have a large wall space to fill up then use a series of different sized circular mirrors to command attention. I love it….it adds so much sparkle to the room. And I can't forget to mention the sophisticated tone-on-tone wallpaper with its chain-link motif.
How alluring is this night-table with the fur-covered lamp shade – my head is spinning in utter delight. This bedroom is a GLAM SLAM!!
This bedroom is from the Visionnaires Collection. Check out their full catalogue here
Now you may be thinking that this glamorous bedroom is totally impossible for your lifestyle….but I say "NEVER!" As a whole, yes it may be…but taking pieces of this room and replicating it in your bedroom is not that difficult or impractical.
Option 1: A upholstered tufted headboard as the main focal point
Option 2: Said headboard + sparkly chandelier (with or without feathers)
Option 3: Glitzy chandelier + lots of sparkly mirrors
Option 4: All of the above!!
Hope you all have a super glamorous weekend!!
If your home is craving some glamour, then contact me online or in person! I'd love to help!
Glamorously yours,
Christine xo
By the time most of you read this, the cutest royal couple EVER will be officially prince & princess…or maybe they will become Duke and Duchess. Whatever titles will be bestowed upon them on their wedding day, most of us will be yawning and clamouring for another cup of coffee…..so while we are awake, let's pay homage to the Brits!!
Mario Testino/Art Partner
This is what I will be wearing at 5am alongside my PJs to honour the spirit of Princess Diana and the newest princess, Kate!!
Doesn't every girl dream of finding her prince charming? Well, this plate says it all!!
$32 at kkoutlet.com.
The Union Jack is hotter than ever!! Love these pics I saw in an email to me from High Gloss Magazine. Who wouldn't want one of these pieces for their home decor !!
And for every Glamour Girl in this universe, there should be at least one tiara that fits!! If not, than you can at least surround yourself with this delightful wallpaper, Crowns & Coronets created for the royal nuptials by Graham & Brown
You can even get creative and Jazz it up with their 'Royal' Jewels – glittering self adhesive jewels that allow you to create your very own tribute to the happy couple. How fun is that!!
So if you didn't receive one of these invites,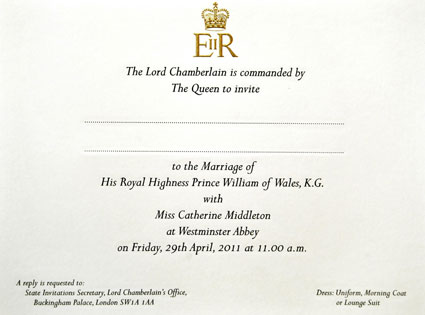 than join me on your sofa at 5am and let's toast to the cutest royal couple EVER and their big day!!! Cheers to William & Kate!!
Christine xoxo