By the time most of you read this, the cutest royal couple EVER will be officially prince & princess…or maybe they will become Duke and Duchess. Whatever titles will be bestowed upon them on their wedding day, most of us will be yawning and clamouring for another cup of coffee…..so while we are awake, let's pay homage to the Brits!!
Mario Testino/Art Partner
This is what I will be wearing at 5am alongside my PJs to honour the spirit of Princess Diana and the newest princess, Kate!!
Doesn't every girl dream of finding her prince charming? Well, this plate says it all!!
$32 at kkoutlet.com.
The Union Jack is hotter than ever!! Love these pics I saw in an email to me from High Gloss Magazine. Who wouldn't want one of these pieces for their home decor !!
And for every Glamour Girl in this universe, there should be at least one tiara that fits!! If not, than you can at least surround yourself with this delightful wallpaper, Crowns & Coronets created for the royal nuptials by Graham & Brown
You can even get creative and Jazz it up with their 'Royal' Jewels – glittering self adhesive jewels that allow you to create your very own tribute to the happy couple. How fun is that!!
So if you didn't receive one of these invites,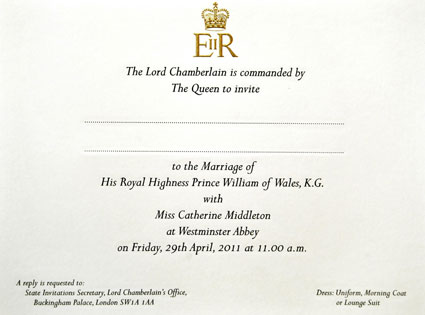 than join me on your sofa at 5am and let's toast to the cutest royal couple EVER and their big day!!! Cheers to William & Kate!!
Christine xoxo
Hi Everyone,
The 2nd issue of Dabble Magazine is live!! The latest issue focuses on Santa Monica, Kimberley Seldon's hometown….so be sure to read the latest issue here
And then of course, be sure to head over to page 32 and catch my latest Industry Profile with Jeffrey Herr, the Curator at Hollyhock House in Hollywood. Hollyhock House was the very first project in Los Angeles that Frank Lloyd Wright designed — It's quite fascinating!!
Hope you are enjoying Dabble as much as I am and please share…..what do you like to dabble in??
If your home is craving some glamour, then contact me online or in person! I'd love to help!
Glamorously yours,
Christine xo
Monday's regular feature "Decorate As You Dress" will return next week. Today I couldn't resist sharing this bedroom with you and asking – Is it a total GLAM SLAM OR is it a total SHAM!??
Now you certainly wouldn't expect anything less from Cher – whatever she does always makes an impact….and so does this bedroom
Her bedroom was designed by Martyn Lawrence Bullard, designer to many celebrities. For Cher, he added Moroccan flair to her bedroom through this majestic headboard from the early 18th century and carried this theme throughout the rest of the room's furnishing and decorative accessories.
So, is it a diva-worthy bedroom? You tell me…Glam Slam or Total Sham??
If your home is craving some glamour, then contact me online or in person! I'd love to help!
Glamorously yours,
Christine xo
Just a quick note to wish you and your family a very Happy Easter!!
Below are some very pretty Easter centrepieces that I thought you might enjoy!!
Aren't these centrepieces adorable? All pictures are from Better Homes and Garden. Instructions for creating these gorgeous centrepieces are also included on the website.
All the best……and remember there is no such thing as too much Candy!!
Christine xo
Erin McLaughlin, Editor-in-Chief of Style at Home has named three of the big design trends that are popping up in the industry this spring and Style at Home has been kind enough to share them with me.
Trend 1: Hollywood Regency
Trend 2: Bold 80's Colour
Trend 3: Diminutive Plants
And now I want to share my most favourite of the 3 trends mentioned in Erin's Style at Home Spring Trend Report: "Hollywood Regency." If you've been reading my blog for a while or follow me on Twitter than you know that was a pretty obvious choice!
The photo below of a very glamorous boudoir from Style at Home's very popular High/Low feature highlights glamour in all its glory!! Oh yes….it is a GLAM SLAM!!
So here are some key ingredients to creating Hollywood Regency glamour in your home:
Elaborate chandeliers
Mirrored surfaces
Lots of Lacquer
Luxurious velvets
I'm also crushing on the panelled walls…..what an economical approach to add architectural detail to any plain square room!
Oh, and one last item that is a big MUST in any glamorous room!! Books – Fashion books in particular are also a stylish source of inspiration and you know how I truly believe that you should decorate as you dress.

Room Design by Samantha Pynn Photography by Virginia Macdonald
Have a wonderful Good Friday and I hope the Easter Bunny brings you lots of glam-filled chocolate eggs!! Happy Weekend!!
If your home is craving some glamour, then contact me online or in person! I'd love to help!
Glamorously yours,
Christine xo
I just bought the cutest pair of black wedged heels from Gwen Stefani's Harajuku Lovers line – and they are absolutely adorable for summer fun AND so comfy.
So how can you incorporate this look into your home? Well let's see what pictures these shoes inspired me to choose!
Photo Source: House & Home, Designer: Arren Williams Photographer: Angus Fergusson
Black walls? Oh la la!! I absolutely think this basement media room is stunning and totally goes against what you would think to do in a basement. But it absolutely works. And now one of my personal decor goals is to have a black room in my home. This is a GLAM SLAM!!
I also love this black sawhorse desk…it's so classic and would look so swanky in my bedroom retreat next to my leopard chaise.
The Kartell Louis Ghost Chair is an iconic, classic chair and although it's a statement piece, it will fit in with any of your current furniture. These chairs are timeless and long lasting pieces of furniture that won't date so you will always find a place for it in your home. I currently own 2 Victoria Clear Ghost chairs and I absolutely love them. But the black ones are fab-u-lish!!
Don't you love this entry way. The black glossy console table with those gorgeous black Kartell Bourgie lamps will make your guests stop in their tracks mesmerized by their impact to the decor senses. I recently purchased 2 crystal Bourgie lamps that I am madly in love with….can't wait to show them to you right here at the Glam Blog!
And last but not least: Graphic accents like black and white certainly give a bedroom added oomph! Look how adorable the gingham chair is next to that stunning chevron rug!! I love this bedroom – don't you? Oh, and did you notice the dark grey walls….see, it's not just for basements!!
Well, I hope you enjoyed reading my latest edition of Decorate as You Dress and that these pictures inspired you to bring more black into your home decor as much my new black shoes inspired me!
If your home is craving some glamour, then contact me online or in person! I'd love to help!
Glamorously yours,
Christine xo
Today I thought we would venture to the outside for some gorgeous backyard glamour. Who wouldn't want to head outside for a quick dip in the pool, catch some rays on the lounger with those oh so fresh looking white cushions. And when the sun gets too hot, than we can head over to the luxurious cabana for some shade, cocktails and maybe a lovely afternoon nap. This cabana is definitely a Glam SLAM!!
Well apparently this fabulous view is owned by the utterly stunning and beautiful new parents known as Penelope Cruz and Javier Bardem. I guess it's not big enough now that they have a little baby as it is currently on the market for $3.2MM.
I wasn't overly impressed with the home so I didn't bother with any interior photos,but click on the link above if you care to see more photos of this home.
Have a fabulous weekend!
If your home is craving some glamour, then contact me online or in person! I'd love to help!
Glamorously yours,
Christine xo